Sympathetic Resonances
A free online platform for documenting, learning, and exploring mbira music
Interactive transcriptions
Edit, play back, and visualize mbira patterns in your web browser:

Score playback is synthesized from sampled instruments.
Tuning repository
| | |
| --- | --- |
| Currently, 100+ tunings of ten mbira types are available. Instrument Gallery » Explore the wonderful diversity of historical and contemporary scales, and use them for tuning your own instruments. Example tuning » | |
Archives accessible
In 2017, we started a project at the International Library of African Music
(ILAM)
to make the great variety of mbiras and tunings in the Tracey Instrument Collection, as well as Andrew Tracey's extensive personal transcription archive audible and accessible to the world.
This site also hosts transcriptions from a number of academic publications, making those more approachable to non-scholars.
Your personal library
Sign up to access all available content, and to start a personal archive of transcriptions. It is, and will always be, free of charge. Everything you create is private, unless you decide to share it with other individuals or
groups
. To date, more than 450 registered users have created over 1400 transcription records (190+ available to all users).
How it works »
Learning & Inspiration
Get started with each mbira type's traditional repertoire, using the freely available transcriptions. Use the computer-generated
playback
and
instrument visualization
for rehearsal at any tempo, and for practicing the intricate interlocking between multiple players. As an advanced player, get inspiration from a number of musical tools: Transpose and transform pieces, translate them across instrument types, quickly create variations or compose new harmonic progressions.
Purpose & Values
This project wants to contribute to the preservation (and expansion) of diversity of mbira music, with a special focus on marginalized traditional instrument types.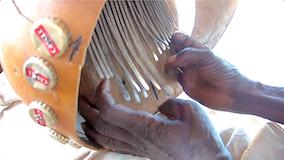 It does so by employing digital technology to make knowledge as accessible as possible, and to connect people. Approaching cultural heritage sensitively and sensibly, it maintains a long-term perspective - considering the next generations of players as well as the economic basis of culture bearers who teach their knowledge in the present.