Using Groups
Groups are a tool to create communities of interest around a shared pool of pieces. Technically, a group is a set of pieces and set of registered users, one of them being the group owner. All group members may (un-)share pieces with the group. Only group owners can add and remove members. If required, owners may specify their own terms and conditions of membership, e.g. not disclosing materials, owning a certain book, being part of a group or business outside of SR, acknowledging an appeal for donations.
Table of contents
The groups list
Select Groups from the menu bar...

...to get to the groups list:

The list contains all groups which you joined or created yourself. It also shows all publicly listed groups, which you may join upon request.
Using groups (as a member)
Joining a listed group
In the groups list, press a group's Join button:

In the subsequent dialog, please read the group description carefully, and check the Terms accepted box to accept the groups terms and conditions (if any). Type in a message to the group owner and press Send.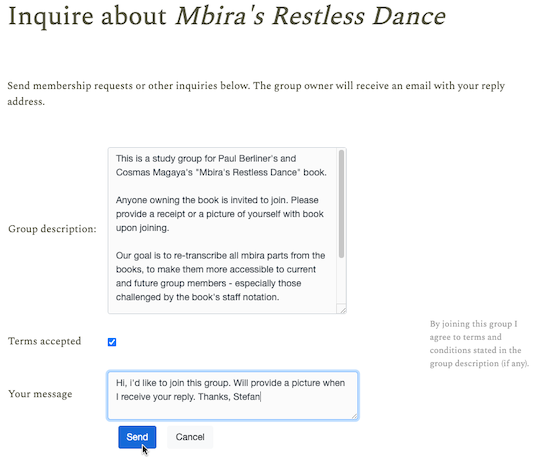 Your message and consent with the group's terms will be emailed to the group owner, employing your email address for replies. After the group owner made you a member, all pieces shared with the group will appear in the Pieces shared with you section of your Pieces List.
Sharing a piece with a group
Once you are member of one or more groups, "Share with group" appears behind the pieces in your pieces list.

It brings up the group sharing dialog with a number of options: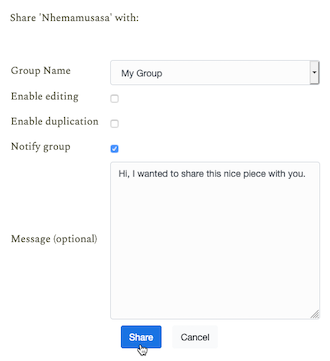 Pick the group to share with from the Group Name dropdown list. Check Enable editing if you want to enable group members to edit your (original) piece, and Enable duplication to enable them to save a copy of your piece. Check Notify group to send a emails to all group members, containing the piece name and you as the sender, plus an optional message which you may type into the Message box.
Re-sharing a piece to change permissions
Once you shared a piece with a group, you can add or remove editing and duplication permissions by sharing the piece again with different settings.
Removing shared pieces from a group
The Pieces button in the groups list gets you to a list of all pieces shared with the group.

There, press Unshare to remove your piece from the group altogether:

Leaving a group
To leave a group, please contact its owner via email.
Managing groups (as the owner)
Creating a group
Pick Groups from the menu bar, and press Create Group in order to create a new group.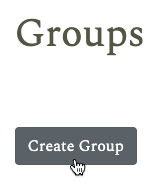 In the subsequent dialog, enter a name and description of the new group. Check the Listed box if you want the group to be listed. In this case, please choose a group name which makes sense in a public list. Click Create and the new group appears in the groups list.
Listed and unlisted groups
Listed groups always appear in the groups list. They are publicly visible to all visitors of this website. List your group if you want to invite other users to join, possibly under your own terms and conditions. Unlisted groups are not visible to anyone but their members. Only their owner can invite members.
Terms and Conditions of membership
Please specify terms and conditions in the group description, as in the example below. Users will be asked to accept these terms when sending a membership inquiry, and that consent will be explicitly stated in the emails you receive.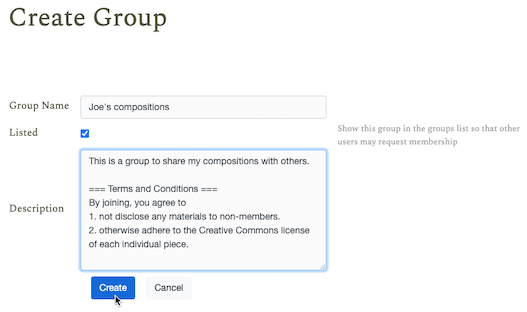 Note that your terms may not replace, but only work in addition to, this website's general Terms and Conditions of Use, which all users are required to accept during signup.
Editing group details
Click the Details button to update the group details after creation.

If you change the terms and conditions of a group which already has members, please make sure to get confirmation of the existing members.
Adding group members
The Members button gets you to the group's member list.

There, press the Add Members button.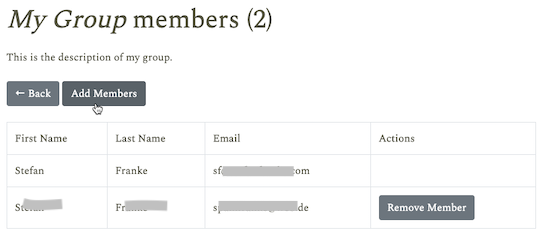 In the subsequent dialog, enter one or more email addresses of other registered users in the Email address(es) box.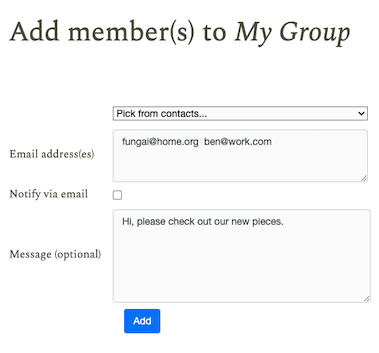 Check Notify via email to send a emails to all new members, containing the group name and you as the sender, plus an optional message which you may type into the Message box.
Removing group members
To remove a member from the group, press the Remove Member button in list on the members page.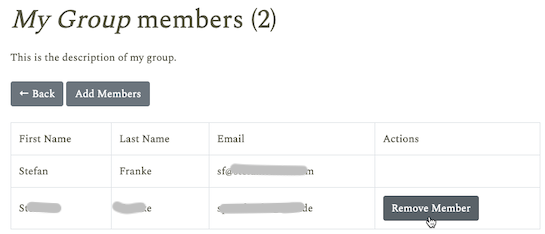 The subsequent dialog allows you to notify the user about to be removed, and lists the pieces which are going to be unshared.
Removing shared pieces
Group owners can not only remove their own pieces, but any piece shared with the group.
Deleting a group
Click Delete Group to delete your group.

A notification mail will be sent to all members, with an optional message which you may add in the subsequent dialog. After deletion, pieces shared with the group are no longer accessible to the former group members.
Other uses for groups
Groups can also be used as workarounds for a few issues which do not yet have a better solution:
Friends' email address list
Many people use multiple email addresses, or sometimes update their SR registration. When sharing pieces it is important to use the email address which the recipient registered with. Otherwise a new preliminary is created and an invitation email sent to that address. Cleaning this up is a tedious manual process. Groups show the current email addresses of their members, so you can use a group without pieces to keep track of your friends' current email addresses.
Thematic piece collections
Use a groups without members to organize collections of pieces.
Groups and privacy
For the time being, the list of members of a group is only visible to its owner. Only after sharing a piece with the group, the piece creator's name appears in the pieces list - as on the piece page itself. A future version of the website will likely disclose the member list to all members, while allowing the use of pseudonyms wherever user names are shown.